This past Saturday, a friend of mine hosted her first ever "Choctoberfest" get together at her home. She asked all the invited individuals to bring a dish that centered around chocolate. It could be anything, it just had to have chocolate in it.
I am not the biggest chocolate fan in the world. In fact, I rarely have the stuff. I'm more of a salty kind of person. Give me a bag of chips over a candy bar any day and this girl will be happy. But the event sounded like fun, and it forced me to reach outside of my comfort and social anxiety ridden zone of doing something that involved being around people I don't know, and so I went.
But because I don't really like chocolate, I had to find something that contained chocolate, but also was something that I would want to eat!
And that's when I
stumbled upon this baby
: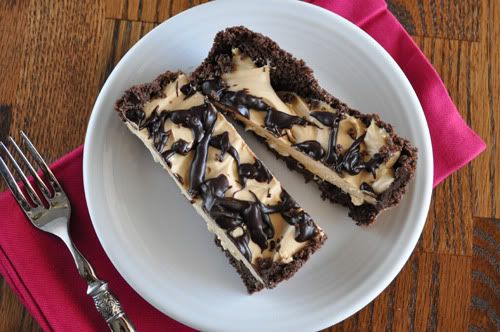 Peanut Butter Pie! YUM! This dish was SO easy to make, and was so tasty. And, in a group of about 20 dishes all containing chocolate, it was voted the fan favorite of the afternoon in the poll she did. It is very, very rich, so small portions are definitely best, but it is worth making for your next get together. Enjoy!
Peanut Butter Pie
Yields: 8-10 servings

8 oz chocolate graham crackers
4 tbsp unsalted butter, melted
8 oz finely chopped chocolate or dark chocolate chips, divided
1/4 c peanuts, chopped
8 oz cream cheese, softened
1 c creamy peanut butter
1 c confectioners' sugar
1 tsp pure vanilla extract
1 c Sugar-Free Cool Whip

Add the graham crackers to the bowl of a food processor and pulse into fine crumbs. Combine melted butter and cracker crumbs in a small bowl, and stir with a fork to mix well. Press mixture into the bottom and 1-inch up the sides of a loaf pan. Melt half of the chocolate in a double boiler or in the microwave. Pour over bottom of cookie crust and spread to the edges using an off-set spatula. Sprinkle chopped peanuts over the melted chocolate. Place pan in the refrigerator or freezer while you prepare the filling.

Place the cream cheese and peanut butter in a deep bowl. Beat on medium speed until light and fluffy. Reduce speed to low and gradually beat in the confectioners' sugar. Add the vanilla extract, then the Cool Whip. Increase speed to medium and beat until all the ingredients are combined and filling is smooth. Pour the filling into the prepared loaf pan.

Melt the remaining half of the chocolate and let cool for a few minutes. Then, drizzle the melted chocolate on top and refrigerate or freeze for three hours or overnight before serving.