Welcome to the Pinterest Challenge: Week Four! If you are new to this challenge [as I'm sure most people are!] then feel free to go here to check out the rules & all pertinent information.
Welcome to week four everyone! HOORAY! I am happy to see a few regular posters already and am hoping that this will gain some speed in the coming months. I am a huge failure and due to an extreme lack of time/being completely exhausted/dealing with some pregnancy issues I did not get anything on my Pinterest list accomplished this week. So, I bring you this funny instead:
Which, coincidentally, I found on Pinterest. So I guess that kind of counts? And it's funny, because it's true. Next week may also be a challenge as we are heading to Savannah, GA for the weekend, but I will do my best. I have a couple of projects that I will start working on and recipes to be cooked [although I really am trying to get away from the recipes! They are just so dang easy to go to when you love cooking!].
In other FABULOUS news,
WE HAVE A BUTTON!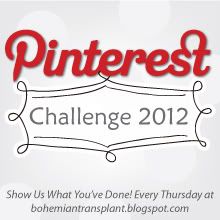 A shiny, kind of pretty button that you can now share on your blog to help spread the word about this wonderful link party. The more the merrier! So add it to your posts, or put it permanently on your blog to help drive traffic during the non-pinterest challenge days. Either way, I hope y'all use it. [You will see it right over there to the right ... a little lower ... yup. Right there. Code and all!]
So have at it, folks. What did you do this week? Did you branch out and try something new? Or did you stick to what you know? Link up, peeps!